10 Mar

M3 Technology Group
"It's all about how Acumatica listens to you and how quickly they respond. They really do want to hear from users to understand our business processes so they can incorporate new features and enhancements to make things even easier. It's just amazing!"

Kelly Burns, ERP Developer & former Chief Operating Office,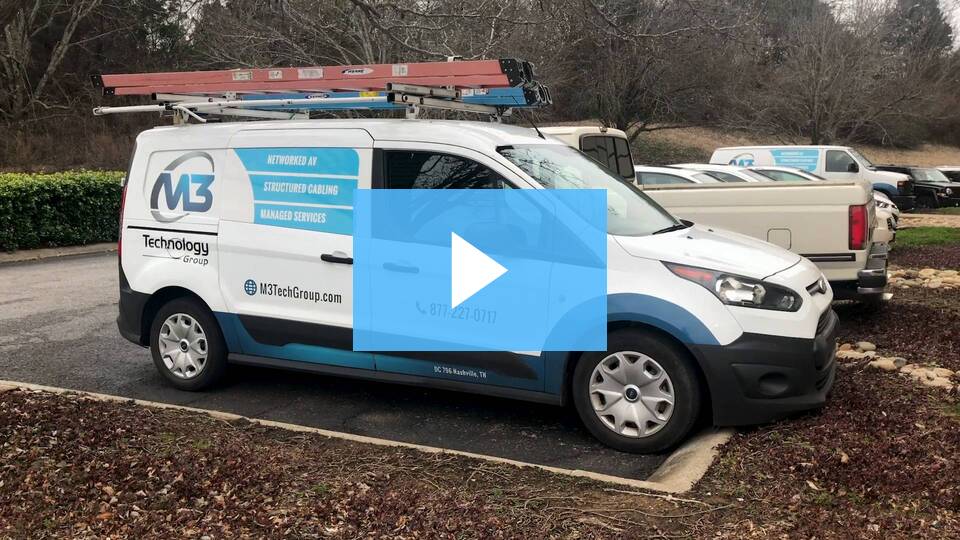 M3 Technology Group – Success Story of Acumatica Cloud ERP
Executive summary
M3 Technology Group is a leading provider of Networked Audio-Visual systems, Managed Services and ITS base building infrastructure, known for delivering outstanding design, installation and support. M3 Technology needed an ERP solution to track project status, cost, and profitability with project management tools. The company also needed to tie in order processing, shipments, and inventory management with its accounting.
What needed to be done
Kelly Burns, ERP Developer & former Chief Operating Officer, turned to more robust software packages as the company and its user needs grew, moving from a smaller accounting software package, to a mid tier package and finally to an on-premise ERP solution.
Burns began to realise the existing finance solution was starting to hamper the company's growth. Creating quotes for customers was a laborious process that frustrated his sales team. "We had to know the exact format of the item or name we were searching for. There was no contextual search feature like we have now with Acumatica," he says. Finding historical records was completely frustrating and very time-consuming.
When M3 launched new lines of business with different financial needs than its traditional business, the existing financial solution couldn't handle project cost accounting, those functions "were very minimal and required a lot of manual entry to get where we needed to be," Burns says.
The company needed financial software that could display project-cost profitability in real time instead of waiting until project completion – after time and expense information had been manually calculated and analysed. Knowing they needed a cloud-based system to handle the team's mobile office needs, Burns evaluated three service providers After demos, they found the licensing packages were much too expensive since they charged per user, and none would meet M3's needs without even more expense to customise.
The solution
After seeing demonstrations and learning about Acumatica's unlimited user licensing model and deep customisation potential (a lot of which can be done without a developer), Burns decided to purchase Acumatica. "It appeared to have everything we wanted and the project accounting we really needed," he says.
Results for M3 Technologies
M3 Technology has grown dramatically since implementing Acumatica. With the move from the old on-premise solution to Acumatica's Cloud ERP, M3 experienced a growth in revenues by 60% in just the first two years, all while maintaining the same headcount in the finance department. "We came out of the gate billing larger orders than ever. Transactions were substantially increased, but we covered the tasks with the same people," Burns says. "We weren't extra stressed or working overtime to keep up, yet we were doing way more in sales and transactions through Acumatica."
Field services fuels M3 growth
"Now we have 25 Field Services Reps, five operating as full-time on-site support technicians at universities and corporate campuses," Burns says. "In 2017 we logged nearly 1,300 service tickets, 2018 was double that at least. We use Acumatica's case system and Field Services to track tickets."
Acumatica's Field Service edition allows M3 to streamline dispatching, reduce response times, and minimise costs. It isn't a bolt-on application but rather works directly with the other ERP modules including sales, inventory, purchasing, accounting, and financial reporting. Mobile workers can connect to Acumatica via an app to enter data such as expenses, directly, saving time.
Rather than spending half an hour fighting with freezing applications, the mobile sales team now creates quotes in minutes without any downtime or the latency issues experienced prior to Acumatica.
Acumatica provides peace of mind
Previously, with their legacy ERP, the use of notifications was spotty. Operating in Tennessee where the tax structure is three-tiered, Burns configured the software to send out alerts when a new customer was created. The alert notified the credit department and controller so they could create tax-exempt certifications and apply the correct tax to a quote before it went to the customer.
"But it was a daily pain to wonder if the notifications would happen or not," Burns says. "With Acumatica, we don't have to worry. It's rock-solid. The system just works so we don't have to wonder if it's performing correctly." Burns has also easily implemented third party tax software from Avalara, an Acumatica partner, and Microsoft's Power BI, as well as APS Payment Solutions.
Real-time insight
As M3 Technology Group upgraded to the latest versions of Acumatica, they were able to gain insight into project expenses on a daily basis. Previously, that information was collected at project completion and then manually entered into a spreadsheet, which provided information only in hindsight.
"Now we can see progressive job profit and loss on a daily basis rather than at the end of a project when it's too late to make adjustments," Burns says.
Acumatica: Easy to use
Burns likes Acumatica's "very clean user interface" and praises the application's user controls, ease of adding new users, its field-level security, along with its superior search capabilities.
"Acumatica's contextual search is effective and very easy to use," Burns says. "I rarely use a menu today. Instead, I just use the main search field and start typing a few characters of the screen I want or the document reference someone has provided in an email…the navigation is crazy good and saves a lot of time and headaches. People may say 'what really? Searching is the best thing?' and I say yeah, it really is."
"Customisation within the report designer is fantastic," he adds. "The report designer is also pretty easy for anyone to learn."
Open API's extend Acumatica
Acumatica's open API interface makes it easy to add third party software and develop customisations, Burns says, which means custom development can be accomplished faster and for less money.
"We outsourced a firm to help us develop a solution that collects several silos of data from different applications and they were very pleased with how easy and clean Acumatica's API is to work with. They said they haven't experienced that very often."